Introducing the most secure digital adoption solution to help you share your knowledge across your entire organisation with ease
We have the most flexible, secure solution to meet your digital adoption needs. Our unrivalled, 100% native Salesforce solution provides digital learning, feedback and sentiment gathering to support the agile business, drive continuous improvement and deliver a better experience for everyone.
Before and after implementing Improved Apps
Improved Apps - the only Salesforce security reviewed digital adoption partner
Boost your organisation's digital adoption
The leading flexible knowledge platform
Subscriptions & enterprise ready support
Under the hood of Improved Apps
Key features designed to drive end-user engagement and increase digital adoption within your organisation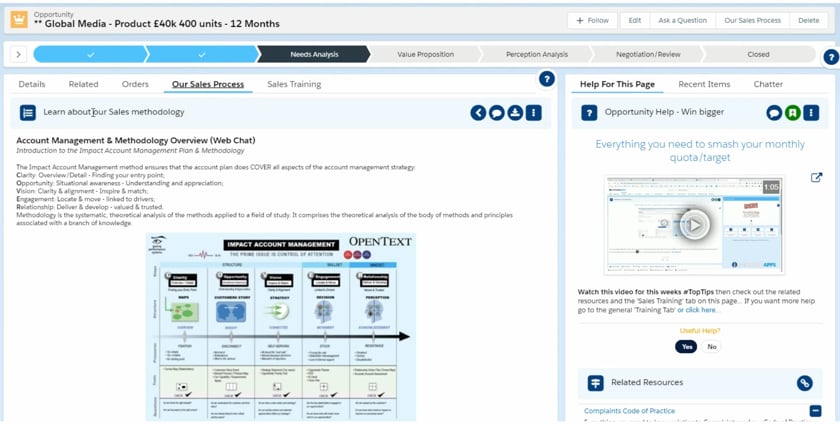 Context-aware help, training and content
No more wondering where content might be and where to start searching. No more struggling with what to look for. No more digging for clues across multi-page documents in some remote content store. In short – no more wasting time trying to find the answers you need, when you need them!
Fully integrated with Salesforce search
Users can use the Salesforce global search to find any content, help topics or critical communications from any location or device. Simplify your end user training.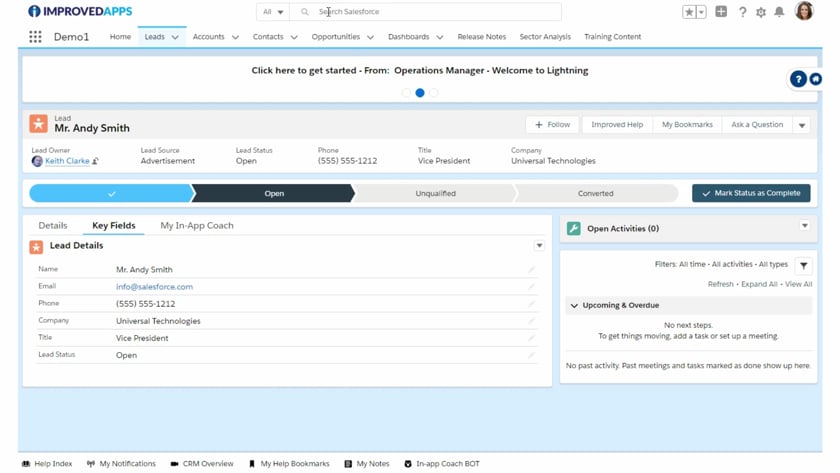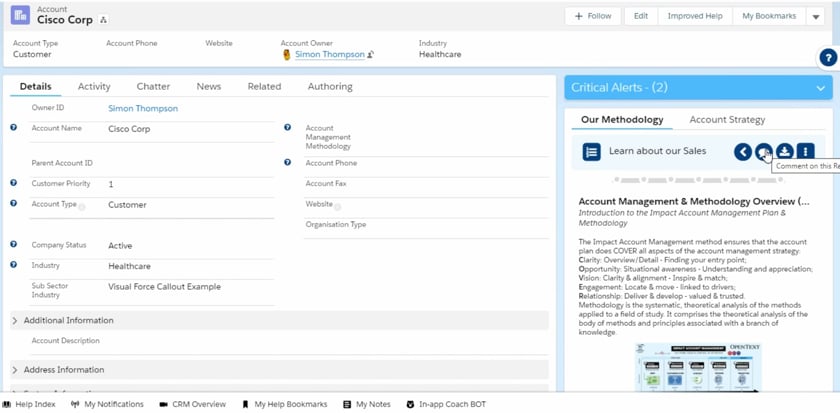 Allow users to easily log feedback at the touch of a button (or finger). Capture user feedback, sentiment and comments, all in the context of the task in hand. Users can submit feedback as they go about their normal day. 
Easy access from any device
Enjoy a seamless experience, with access to the same, context-sensitive content seen on normal browsers or on any Salesforce supported mobile device.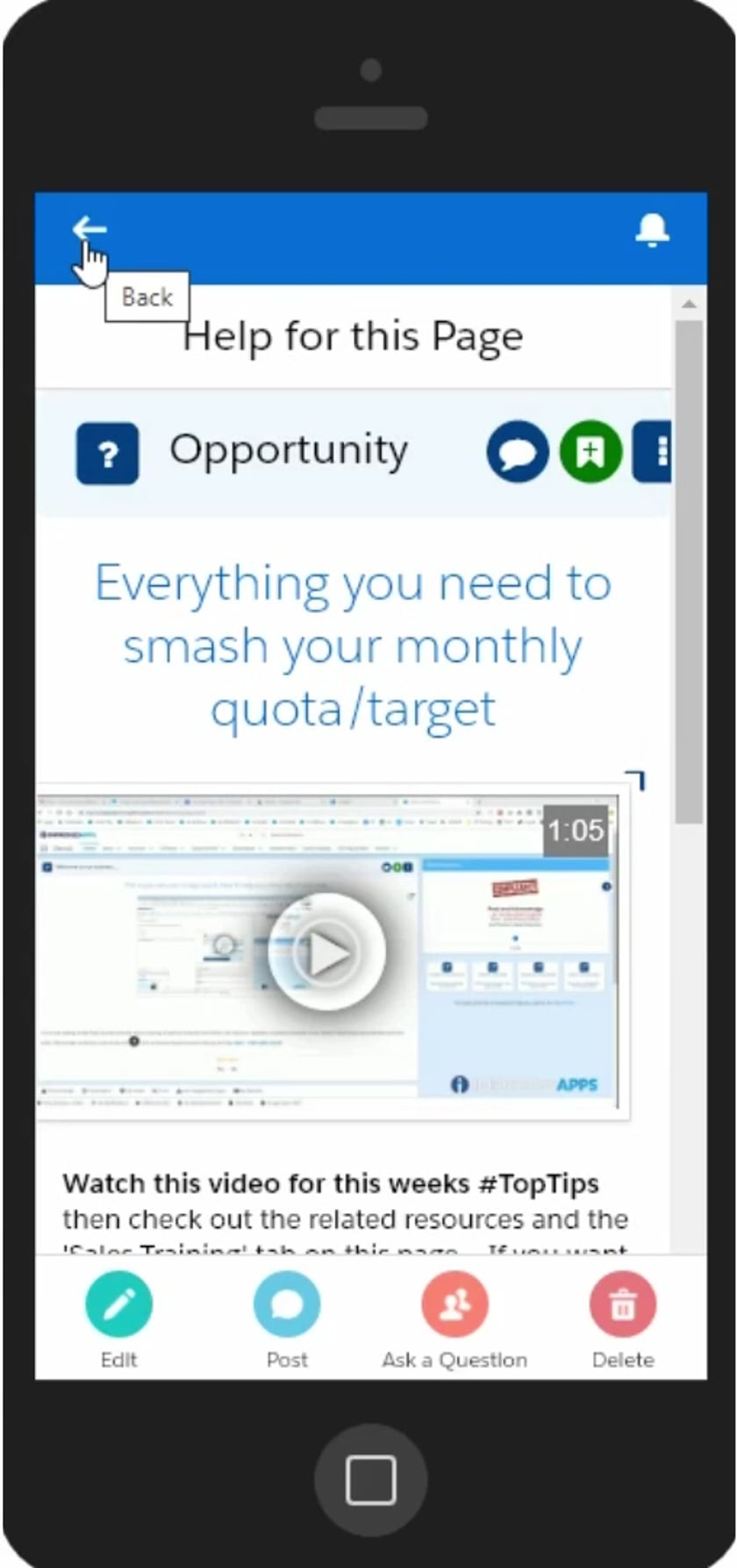 Boost the Salesforce experience within your organisation
Improved Apps is all about offering an improved Salesforce experience. We'll help you get to a place where your users will say… "Salesforce makes my job easier" or "Salesforce really helps me do my job more effectively" and "I couldn't work without it". Increase users' knowledge whilst enjoying more customer-facing time.
Digital Adoption Healthcheck
How engaged is your organisation?
Answer 12 questions to get an understanding of the extent of Salesforce adoption within your organisation 
Easily author & maintain content
Simple authoring tools make it EASY for non-technical business users to create and curate in-app, context-sensitive help and learning content – and place it on-demand at the user's point of need. Maximise return on existing investments by signpost existing resources from any location, with contextual usage notes.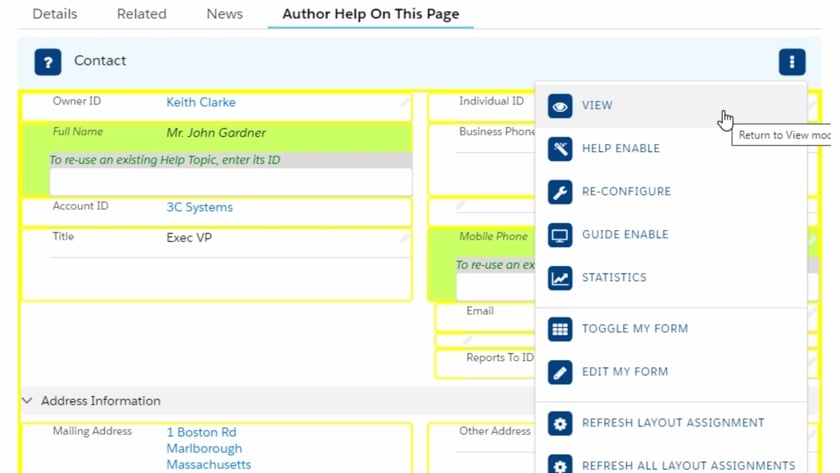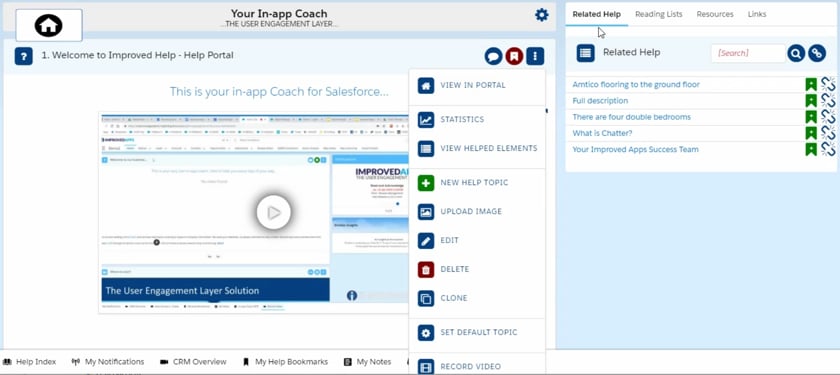 Share knowledge across your user communities
Deliver concise, compelling 'gold nuggets' of content, with easy cross-referencing. Control visibility with Data-Sharing Rules for different user groups such as language, access tools & feedback mechanisms for contribution & continuous improvement.
Push targeted alerts and monitor acknowledgement
Control alerts, updates, announcements & calls for action. Keep users informed & compliant, whilst avoiding email & chatter channel 'noise'. Ensure key information is consumed & acted upon – Standard 'Notification' banners are available in various form-factors to suit your Salesforce experiences, deployment and use cases.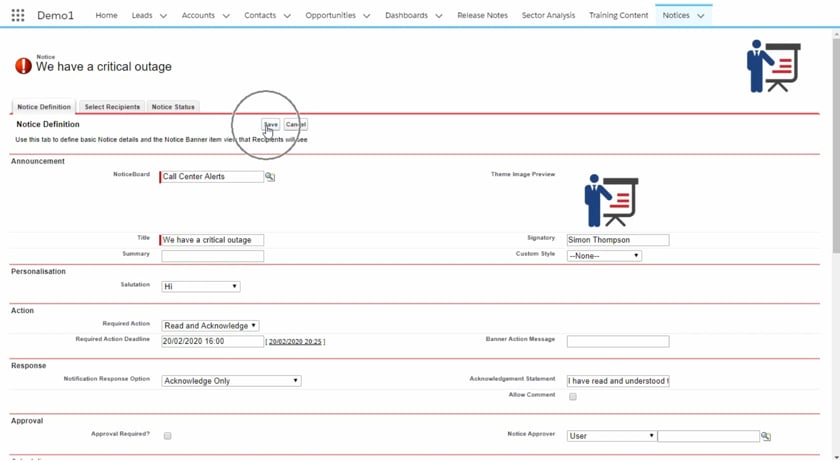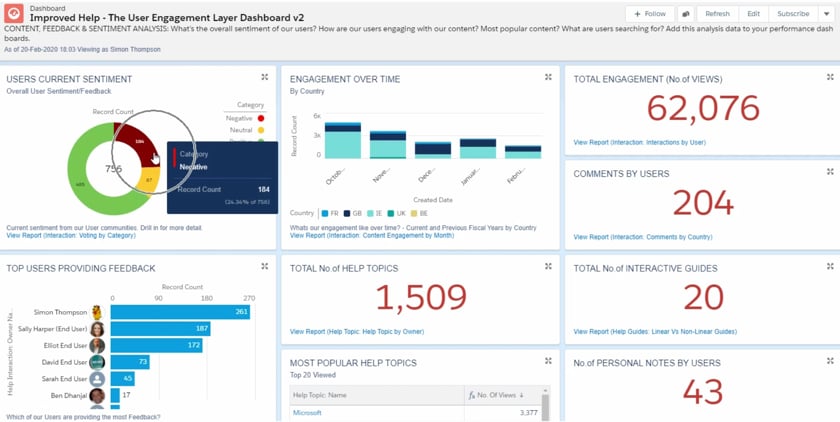 Monitor end user content engagement and sentiment
Enable continuous improvement by tracking engagement, usage and user feedback. Prioritise your content curation efforts and enable continuous improvement with data-driven decisions.
User interactions are logged as Salesforce records – trapping engagement, usage, comments, feedback, searches, sentiment, etc. In-page interactions (think web analytics for Salesforce) also log the Salesforce record ID, enable cross-referencing help usage during key activities, such as competitor research, deal reviews or case management. Many native reports and dashboards are packaged with our solution, meaning there's nothing new to learn. User interactions can be analysed through regular reports & dashboards by users with appropriate Salesforce rights – whether those bundled with the application or embed our key KPIs within your own existing reports and dashboards. If you know Salesforce reports and dashboards you know Improved Apps analytics.
Get started in 4 easy steps
Install from the AppExchange
Configure for any experience
Drag and drop chosen packaged components onto your pages, then run the quick start wizard.
Start authoring content and deploy to your users, all within your Salesforce application.
Watch your users' engagement increase
Monitor the packaged dashboards to see user engagement and sentiment real-time. No more end-user surveys.